Residential Locksmith in San Jose, CA
Are you locked out of your homes and forget your keys inside your homes? When it comes to home lockout issues, we are your buddy. With the help of our skilled local locksmiths and top-notch tools, we can offer high-quality Residential Locksmith in San Jose, services that will address your issue and swiftly address any security issues with your property.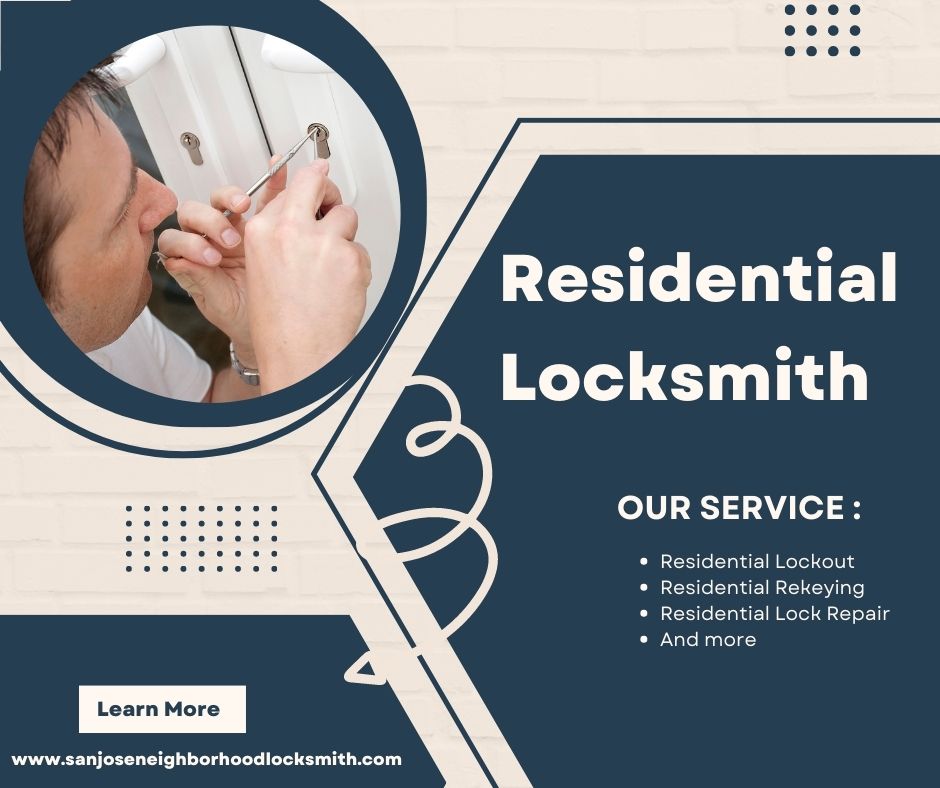 We can provide you with a Residential locksmith in San Jose, CA.
In a safe and secure setting, the home allows you to relax and enjoy your time. However, you can't honestly do either when everyone in the house and your assets are in danger due to broken locks and keys.
24/7 Residential locksmith in San Jose, CA Locksmiths are always Available.
Looking out for your keys and locks can happen anytime. It doesn't choose a time that's convenient for you to fix, whether during business hours or not, day or night. A residential locksmith in San Jose is always on the road to help you whenever you lock in your homes. It frequently happens when we least expect it.
For this reason, you require a 24-hour residential locksmith in San Jose, CA, whom you can count on to arrive at your house any time of day if you experience security issues at home.
Remember that you can always rely on us to assist you with your issue around-the-clock when locksmith-related situations arise.
A Full Range of Residential Locksmith Services Is Available from Us
There are numerous things and circumstances when a good locksmith can assist, such as when your cabinet locks break, your keys break inside the cylinder, you can't access your home safe, or you require new gates.
As a Residential locksmith in San Jose, CA, we offer a wide range of home locksmith services, so we can assist you with anything you need a locksmith for. Because of our extensive training and experience, our locksmiths can do tasks correctly and develop hacks that will make your security system live longer and reduce threats in the future.
Some of our services are listed below:
If you have extra keys for your family, they can use them to unlock the door and acquire other essential papers if you get lost. Duplicate keys are also beneficial if you desire your family members to have access to your house.
Residential Locksmith in San Jose, CA, will help you if you and your family are getting locked out of your home, place of business, or car is the most frequent scenario in which a round-the-clock service is necessary. Depending on where you are, this could also be one of the most uncomfortable and hazardous circumstances you could find yourself in. Because of this, it's essential to create an emergency lockout plan in advance by finding a dependable locksmith service provider and saving their phone number for emergencies.
Installing locks in your homes will increase security and prevent break-ins. For your property to be more secure, modern door locks and tangential, and a sense of security are among the primary motivations for using door locks. Residential locksmith in San Jose, CA, always gives in high-quality locks that keep you and your belongings safe.
Locks are essential since they are helpful for your safety and the safety of your belongings. What if the locks that were installed by another installer go break? What will you do? Residential Locksmith in San Jose, CA, is always on the go to help you install or repair your locks. They can replace the broken locks or have them repaired by the locksmiths of residential locksmiths. They will indeed have the solution to the broken locks in your homes.
When a door is closed, its primary purpose is to ensure the room or house's privacy and security. Doors act as a connecting element between the house's num and its interior spaces. It provides the property with a beautiful outlook. One of the securing locks of homes is doors. Residential locksmiths in San Jose, CA, always install high-end quality doors. You can feel secure that this door will keep your home safe and cannot be broken down by thieves.
Safes are a terrific way to safeguard priceless items like jewelry, antiques, and essential documents that are impossible to replace. Safes for your house or place of business come in various designs. Large commercial safes are available for larger purposes, while smaller safes are perfect for protecting the necessities. Some safes can withstand fire and water, safeguarding your most valuable possessions even in the case of a catastrophe. You may feel more at ease if these things are protected.
Licensed Residential Locksmith Service
We naturally become familiar with the specifics of our client's security system due to the nature of our job. Because of this, you must ensure that the locksmith is reliable and a true expert. In San Jose, CA, being the residential locksmith, we know it is essential that we shall cater the aid for help f residents who are locked in their own homes or have troubles with their locks so we ensure that every employee is licensed to provide the Residential Locksmith in San Jose, CA.
We establish trust by being a bonded and insured locksmith business. Every employee of our organization who works for you professionally performs services, abides by all applicable laws, and is bonded and insured.
Customers and clients return to Residential Locksmith because we closely coordinate with the police, ensure that our anti-snap locks are above recommended levels, and stay abreast of any advancements or new tricks burglars and housebreakers employ. Reading these reports and keeping an eye on the news keeps our locksmiths informed of the latest security measures and lock advancements, giving us an advantage over our rivals and enabling us to offer our clients the best service possible whenever they need it.
Work with Residential Locksmith in San Jose, CA
San Jose Neighborhood Locksmith has the skills and tools to provide you with peace of mind, regardless of your business's security standards. You may confidently lock your company knowing that a team of skilled locksmiths has handled the installation with care.
Dial (408) 461-3435 for more information about our services and to schedule a consultation with one of our commercial locksmiths. We anticipate offering you excellent residential security outcomes.