Door lock change services are an essential component of residential and commercial security. We at San Jose Neighborhood Locksmith know the need to take precautions to ensure the safety of your property. Because of this, we make sure to provide a varied lineup of Door Lock Change San Jose, CA, services to accommodate the needs of our customers in the San Jose area.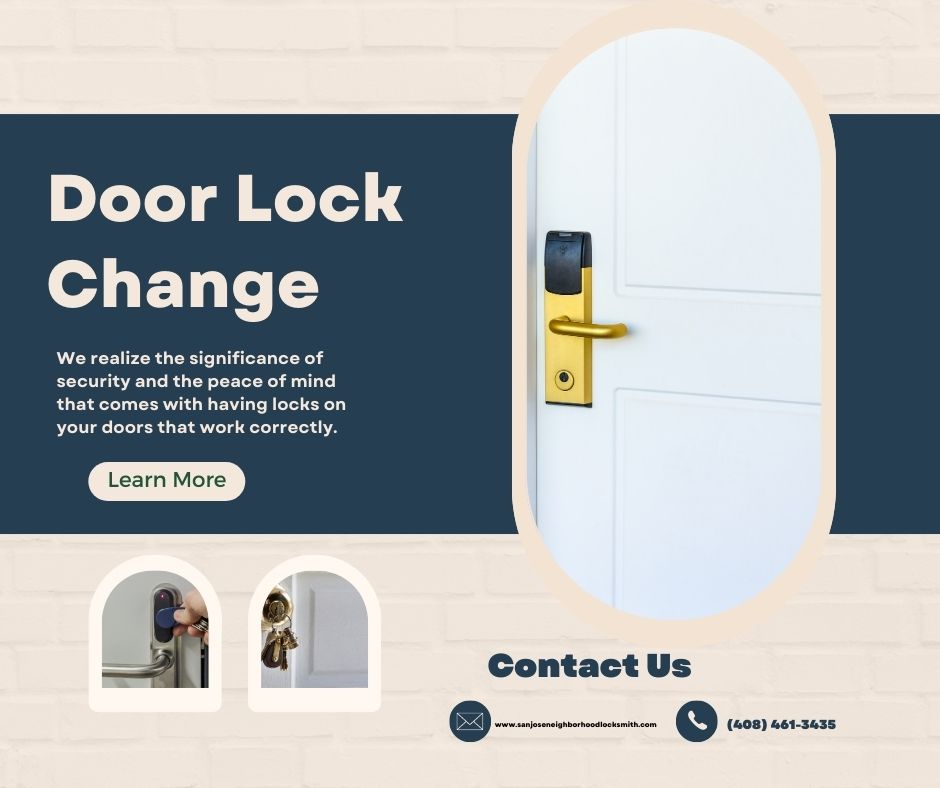 If you require a Door Lock Change San Jose, CA area, get in touch with us as soon as possible at (408) 461-3335!
Signs It's Time for a Commercial or Residential Door Lock Change
Moving into a new property: When moving into a new home or business, it's a good idea to change the locks to ensure that old keys will no longer work. Your property will be inaccessible to anyone who does not have the new set of keys, removing a significant source of anxiety for you.

Lost or stolen keys: If you have lost your keys or they have been stolen, it's essential to have the locks changed to prevent unauthorized access to your property.

Security concerns: If you are concerned about the security of your current locks, change them to more secure options, such as high-security or smart locks.

Tenant turnover: Landlords may want to change the locks between tenants to ensure that only authorized individuals can access the property.

Wear and tear: Locks can become worn out or destroyed over time, which reduces their security. If you notice that your locks are no longer functioning correctly, it may be time to change them.
It is essential to remember that if you are worried about the safety of your current locks, it is preferable to have a professional locksmith assess them and make suggestions on whether you should change them.
And San Jose Neighborhood Locksmith is always ready to help you with any locksmith needs.
Commercial and Residential Door Lock Change San Jose, CA
At San Jose Neighborhood Locksmith, we understand the importance of keeping your business and home safe and secure. That's why we offer various commercial and residential door lock change services to meet the needs of our customers in the San Jose area.
Our experienced technicians are professionals and ready to handle all types of commercial door lock change requests, including:
This service involves changing a lock's internal mechanism so it can be operated with a new key. For individuals who have lost their keys or are worried about the security of the locks on their doors, there is an option that will stay within their budget.
This service entails installing brand-new locks in place of the customer's current ones. Those who are moving into a new house or looking to improve the level of protection at their home or business may find this a helpful alternative.
Replacing worn or broken locks
As part of this service, we replace locks that are no longer operating as intended when necessary. This could be due to years of use, some damage, or plain old wear and tear.
Upgrading to high-security locks
This service involves replacing existing locks with more secure options like deadbolts, smart locks, or keyless entry systems. Those interested in bolstering their property's safety may consider this solution.
Adding deadbolts for added security
This service involves installing a deadbolt lock on a door for added security. Those who want to boost the protection of their property without having to replace their old locks may consider this solution as an alternative.
San Jose Neighborhood Locksmith provides 24/7 emergency services for urgent lock change needs, we understand the importance of having a secure home, and that's why we are always available to help you in case of any emergency. All these services are carried out by our knowledgeable and experienced experts, who are also fully licensed, bonded, and insured in the state where they operate. We can work on a wide variety of residential and commercial doors, including those made of wood, metal, and glass, and we also sell locks.
Car Door Lock Change San Jose, CA
At San Jose Neighborhood Locksmith, we understand the importance of securing your vehicle. That's why we offer a comprehensive car door lock change service to protect your car against break-ins and thefts.
Our trained and experienced technicians have the knowledge and expertise to quickly and efficiently change the locks on your car doors, offering you the security that comes from knowing that your vehicle is safe and secure at all times.
Our car door lock change service includes the following:
A thorough assessment of your current car door locks to determine the best course of action for replacement

High-quality, durable replacement locks that meet or exceed industry standards

Professional installation of the new locks by our experienced technicians

A full guarantee on our work, ensuring that you are delighted with the results​
We pride ourselves on providing fast and efficient service so that you can get back on the road as soon as possible. We also offer competitive pricing, so you can rest assured that you're getting the best value for your money.
If you need a car door lock change, don't hesitate to contact San Jose Neighborhood Locksmith. We're here to help keep you and your vehicle safe.
We are Leading Door Lock Change in San Jose, CA
We at San Jose Neighborhood Locksmith are the top company in San Jose, California, offering door lock change services. Our team of knowledgeable and competent technicians can quickly and effectively change the locks on your doors to ensure that your home or place of business is secure.
We only use long-lasting replacement locks of the best caliber that meet or exceed industry requirements since we recognize how important it is to keep your property secure. Our team of experts will evaluate your current locks and thoroughly analyze the optimum replacement strategy.
Do not hesitate to call San Jose Neighborhood Locksmith if you require a Door Lock Change in San Jose, CA. We intend to keep you and your possessions safe.