Locksmith Service in San Jose, CA
San Jose Neighborhood Locksmith is ready to help you with any residential, car, or commercial lock needs. We are on the road from San Jose, California, and you don't need to worry because we've got you covered!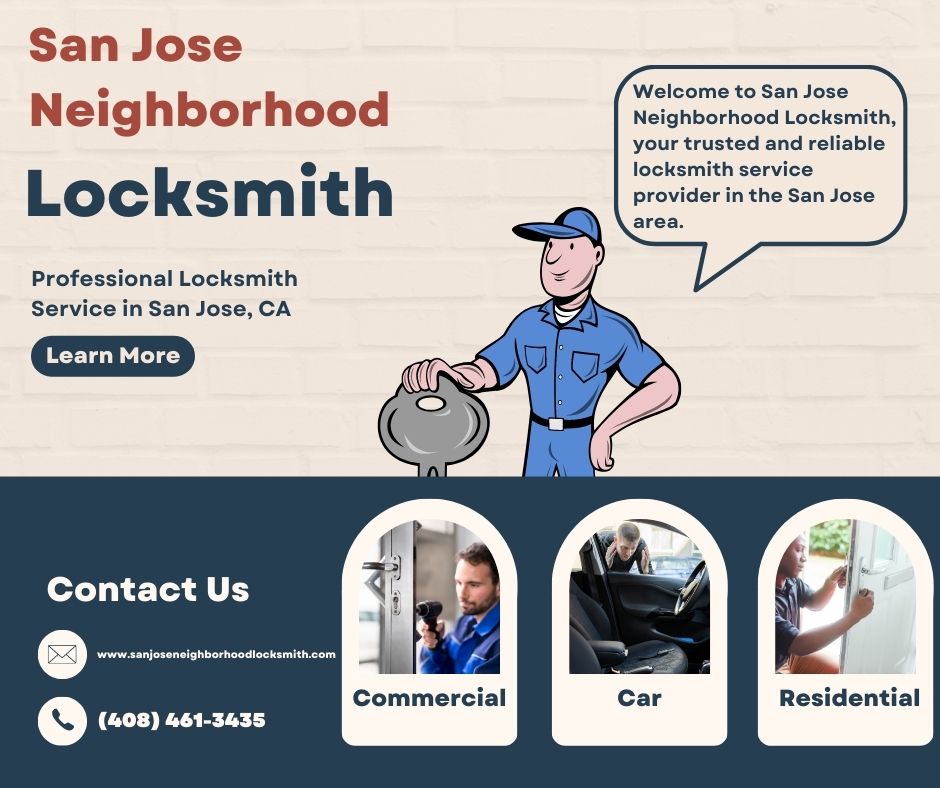 Our commitment to superior customer service is reflected in our close collaboration with each client to deliver the highest level of care.
We at San Jose Neighborhood Locksmith are always ready to assist you with any emergency locksmith needs that you may have.
Whether you are locked out of your car or need to change the locks on your business because an employee was dismissed, we are available 24/7 to meet your locksmithing needs.
San Jose Neighborhood Locksmith provides various locksmith services and solutions in the San Jose, California, area. Our top priority is excellence in client service and happiness, and we aim to satisfy every client with every service we offer. Additionally, we are happy to maintain a fast average response time and offer highly competitive pricing!
Providing the best Locksmith Solutions in San Jose, CA
Our company's success has been driven by earning the trust and confidence of our customers by addressing their private and delicate key, locksmith, and security needs.
San Jose Neighborhood Locksmith provides affordable solutions for any issue—automotive, residential, or commercial—.
Our passion for our locksmith services is noticeable. You, our cherished client, may relax knowing that we'll handle everything properly and discreetly. Always. Call right now to receive assistance from the top San Jose neighborhood locksmiths.
Commercial locksmith in San Jose, CA
A company security assessment is one of the services that San Jose Neighborhood Locksmith provides for local companies. The San Jose Neighborhood Locksmith team can also assist you with services involving safes and vaults, padlocks, and additional keys. The current locks and filing cabinets require the services of a locksmith. Make sure to get in touch with us today! When it comes to installing any commercial door lock, rekeying locks, or emergency panic bars.
All commercial and business locksmith services and security devices are available across the San Jose, CA, metropolitan area.
Residential locksmith in San Jose, CA
Have you recently moved into a new house and found that some locks need to be changed? Your home can have its locks rekeyed in minutes by calling San Jose Neighborhood Locksmith. Along with our other professional services, we also offer the installation of brand-new locks available around the clock.
We provide lock hardware of the greatest possible quality.
Car Locksmith in San Jose
Because we are a reputable locksmith business in San Jose, we can send out a professional within minutes. If you have a 24-hour emergency locksmith service, you are secured if you lock your keys in your automobile, lose your vehicle or any of your car keys, or lose all of your car keys.
We are here to assist you as your auto locksmith in the San Jose metropolitan region.
Emergency Locksmith in San Jose
The most common situations in San Jose locksmith's Neighborhood are broken or lost keys and lockouts. And perhaps the entire region. This is why our emergency responders and professional technicians are available 24/7. We are known for providing all types of locksmith emergency services. Call us if you find yourself locked out of your car, home, or company, and we will immediately help.
Our technicians are ready to serve you with 24 Hour Lockout Service for businesses, homes, and vehicles. We can assist you with the replacement or repair of your car key.
Are keys locked in the trunk? We can help you, so don't worry!
Best Locksmith in San Jose, CA Area
Because we put our customers' needs first, San Jose Neighborhood Locksmith is widely regarded as one of the most reputable and competent locksmith businesses in San Jose and throughout the entire Bay Area. We have been successful in achieving the ideal balance! In San Jose, between excellent customer service and friendly and professional services, locksmiths are in high demand.
For us, customer satisfaction goes beyond just words. Your safety is first here at our company! Our mobile locksmiths can assist you if you require high-security keys for your business, a lock change for your home, or key FOB programming.
Why Choose Us?
San Jose Neighborhood Locksmith is a well-regarded locksmith service provider committed to providing reliable and dependable assistance to its clientele. We have a staff of professional locksmiths that are also qualified and they are ready 24/7 to assist with emergency services such as rekeying and lockout assistance.
In addition to that, San Jose Neighborhood Locksmith is a company that is completely licensed, insured, and bonded. This shows that our clients can rely on us for competent and ethical service. We also have an excellent reputation in the community, and our many satisfied customers who have utilized our services in the past contribute to this reputation.
In general, San Jose Neighborhood Locksmith is an excellent option for anybody in the San Jose area who needs the assistance of a locksmith. We are dependable, competent, and professional, providing a comprehensive range of services at reasonable rates.
You can trust that your needs for locks and security will be addressed with the highest level of service and quality because of our commitment to the satisfaction of our customers and our use of innovative technology and equipment.
Call us immediately for the best locksmiths in San Jose, California!
Get in touch with San Jose Neighborhood Locksmith at this very moment to take advantage of our exceptional locksmith services. You can find the perfect professionals to help you with whatever kind of locksmith issue you're dealing with, regardless of the nature of the problem. We are, without a doubt, the most reputable business in the San Jose area.
What kind of service are you looking for—a basic door lock repair, someone to help you solve the problem of locked keys in the car, emergency locksmith assistance, or perhaps an upgrade to your security system?
Do not hesitate to call us at (408) 461-3435 at the number listed on our website because you can depend on us to provide the best service possible, no matter the situation.
Things To Check / Ask When You Calling To Request A Locksmith
---
No extra cost for holidays and weekends
Prompt and Responsive Locksmith
Courteous Customer Agents
Reliable and Responsive Locksmith Services
Customer Satisfaction at its Finest
If they have Warranty on the job & parts
If the Locksmith is a local company
If the Locksmith License Bonded & insured
If the Locksmith available 24 Hours
If Locksmith provide same day service
If Locksmith doing a Free Quotation
If Locksmith provide Emergency Service
Contact us
Google Map
Get in touch
San Jose Neighborhood Locksmith